Buy With Confidence
Start your search for a new Mazda model or pre-owned vehicle with confidence. Confidence knowing that the vehicle you choose will be built and maintained to last, and the seller is trustworthy and by your side for the entire drive. At Airport Mazda of Toronto, we are not only your authorized Mazda dealer in Toronto and surrounding areas of Mississauga, Etobicoke, Markham, and Brampton, we also treat you with the respect and transparency you deserve.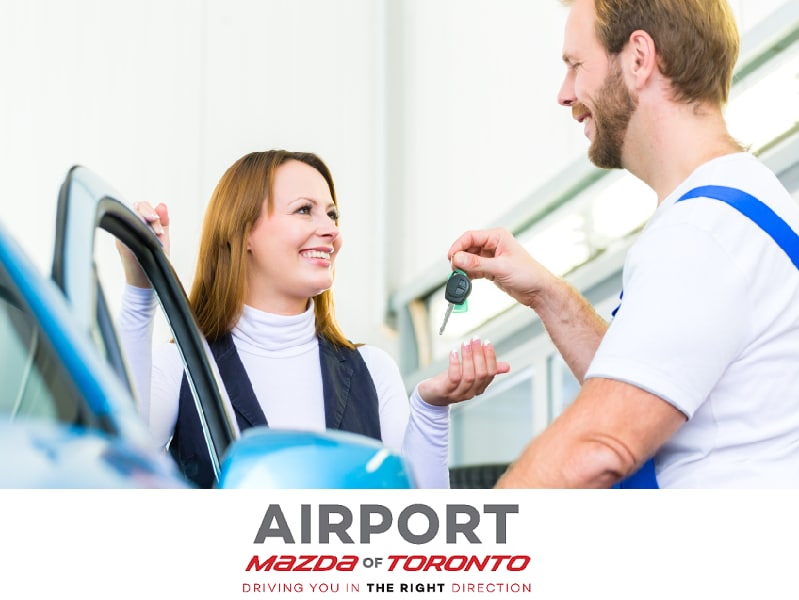 What is OMVIC?
The Ontario Motor Vehicle Industry Council (OMVIC) licenses and regulates motor vehicle dealers in Ontario and administers the Motor Vehicle Dealers Act on behalf of the Minister of Consumer Services. OMVIC's mandate is to maintain a fair, safe and informed marketplace by ensuring registration of dealers and salespeople, inspecting dealerships, maintaining a complaint line for consumers, conducting investigations and enforcing the Act and its associated rules and regulations. OMVIC is also responsible for administering the Motor Vehicle Dealers Compensation Fund on behalf of a Board of Trustees. Registration with OMVIC is mandatory for Ontario's motor vehicle dealers and salespersons.
 
OMVIC was created on January 7, 1997 and marked the first regulated business sector to move to self-management. OMVIC is non-profit and governed by a 12-member Board of Directors. Seventy staff members, a number of whom work from regional home-based offices, provide OMVIC's services.

A new Motor Vehicle Dealers Act (MVDA) became law in Ontario on January 1, 2010. Under the new MVDA there are broad changes to the way dealers must operate. It clarifies former "grey areas" by stipulating clear requirements for advertising, pricing, vehicle disclosure, contracts and consumer remedies OMVIC's YouTube channel launched in conjunction with the introduction of the new Act.
Why Should I Care?
When you are making the 2nd largest purchase of your life, it's YOUR RIGHT to be in a comfortable, safe and trusting environment. Here at Airport Mazda of Toronto, we mandate a transparent buying experience. This way, you know that when you are shopping with us, you are in good hands.
Questions about Buy With Confidence Program?
Hours
Monday

9:00 AM - 8:00 PM

Tuesday

9:00 AM - 8:00 PM

Wednesday

9:00 AM - 8:00 PM

Thursday

9:00 AM - 8:00 PM

Friday

9:00 AM - 6:00 PM

Saturday

9:00 AM - 6:00 PM

Sunday

Closed